Have peace of mind knowing your baby is in good hands with us
Where Your Fur Baby Receives Personalized Care and Attention
Welcome to Adorable Ankle Biters Bed and Biscuit , where we specialize in caring for Small Dogs and their Feline friends! Leaving your fur babies behind can be difficult, so we provide a safe and comfortable environment for your babies to play, rest, and socialize while you're away. Our experienced staff are passionate about dogs and will ensure your pup receives plenty of attention, exercise, and love throughout their stay. Whether your dog is here for a day of play or an extended stay, we offer services to meet their individual needs, including group playtime, one-on-one play sessions, and comfortable sleeping arrangements.
We understand that smaller animals have unique personalities and requirements, and our facility has been designed with their needs in mind. So if you're looking for a place where your furbaby or babies can have fun, make new friends, and receive personalized care, look no further than our small dog & cat boarding and daycare facility.
With limited spaces available, this option is for the parents that need to give their fur baby some friends and play during the day. Getting all that energy out before you pick them up!
Going out of town? We would love to watch your pets for you in a safe, fun, and loving environment! A secure space for your Cats and Dogs!
Need grooming services during the day? Check out our sister company next door
"Adorable Pets by Dena"
We are not a big chain facility concerned with the number of pets booked. We are a family-owned company with over 40 years of experience in pet care and grooming. Over those 40 years we have witnessed and heard about numerous pet boarding problems. While in-home care is the best case scenario,  that is not always an option. That is why our facility has a warm inviting feel of a southern Bed and Breakfast. 
Our commitment is to help your loved, furry friends remove the anxiety of separation from their family. We want to make your pet feel like we are a home away from home, a fun place to stay and to give parents peace of mind that their beloved fur babies are in great care.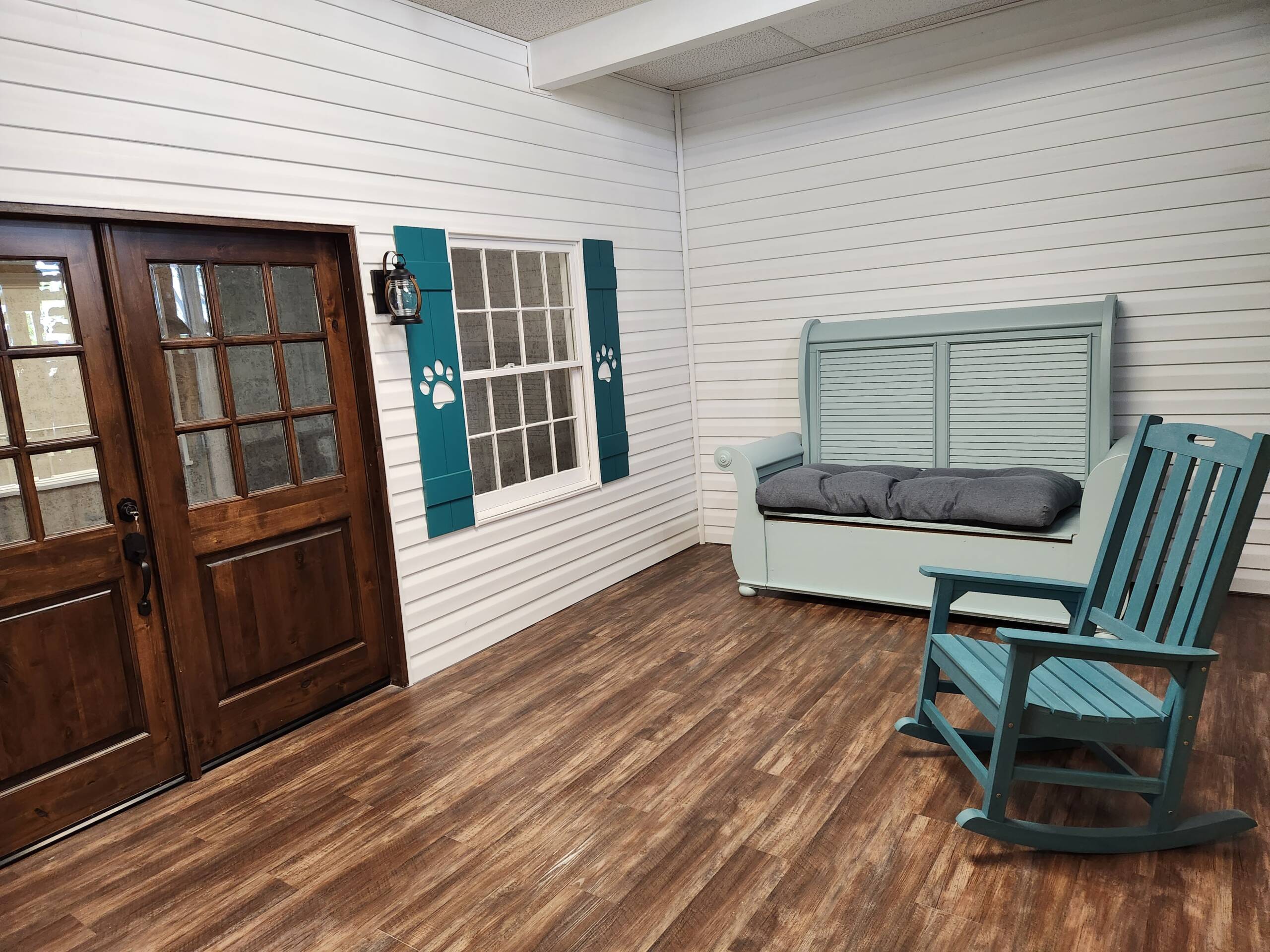 Larger dogs are significantly noisier and enjoy playing in playgrounds and swimming pools. For Small Dogs and their Feline friends, this can be scary and intimidating. Little animals require a completely different kind of care. We decided to build a facility for our tiny 4-legged friends because of this exclusively. So, we DO discriminate! we put we go by height not weight because some of us are chunkier than others! All dogs must measure no more than 16 inches at the shoulder blades.
A small-town southern farmhouse charm may be felt at Ankle Biters Bed & Biscuit. A warm southern front porch greets you as you approach our facility. We have common area "Paw"lor rooms so your fur babies can escape from their rooms, hang out, and relax during the day.
Nevermind fear of thunderstorms or cold weather. We offer an indoor park with a Forever Lawns K-9 grass system where your pets will have free play times in our park multiple times daily.
What Clients Say About Us
I would take my fur baby there anytime. They work with your schedule and treated my baby as if it were their own and she wasn't afraid.
Patricia Wyant
October 13, 2023
This place is awesome for your furbabies!!
elsa olivera
September 7, 2023
I HAVE BEEN TAKING MY DOG NEXT DOOR TO THE SISTER COMPANY FOR MY DOGS GROOMING NEEDS FOR 1 YEAR. MRS DENA AND STAFF ARE AMAZING BY THE WAY . I TRUST ALL EMPLOYEES THERE WITH MY FUR BABY. SO WHEN MRS DENA OPENED UP ADORABLE ANKLE BITERS I WAS SO EXCITED. MY FUR BABY LOVES IT THERE HE LOVES TO GO PLAY AND I LOVE I HAVE PEACE OF MIND KNOWING HE IS WELL CARED FOR . MRS DENA REALLY OUT DID HERSELF THIS PLACE IS AMAZING. I LOVE THE FACT IT IS A SAFE PLACE FOR SMALL PETS ONLY SO I DONT HAVE TO WORRY . RECENTLY I HAD TO GO OUT OF TOWN I FELT GREAT KNOWING I COULD BOARD HIM THERE . I CAN'T THANK KYLA AND ALL THE OTHER STAFF THAT CARED FOR GUCCI, THEY SENT PHOTO'S AS WELL AS PROVIDED UPDATES ON HOW HE WAS DOING THROUGHOUT HIS STAY. KYLA ALSO SENT GUCCI HOME WITH A LITTLE REPORT CARD IT WAS SO THOUGHTFUL AND SO CUTE. LETTING ME KNOW HOW GREAT HE DID ON HIS STAY 🙂 HONESTLY DO YOURSELF A FAVOR AND SEND YOUR PETS TO ADORABLE ANKLE BITERS BED AND BISCUITS YOU WILL FEEL GREAT KNOWING YOUR PET IS SAFE AND ARE SURROUNDED BY STAFF THAT TRULY CARE.
Gloria Lord
August 24, 2023
Adorable Ankle Biters Bed and Biscuit is the best boarding facility I have ever used. The staff shows a genuinely caring attitude towards the dogs (and their owners!). The facility's unique design allows the dogs to avoid the unpredictable Florida weather, yet feel like they are outdoors. The staff is attentive to the needs of the animals and the fact that all of the clients are little dogs provides another level of comfort as they interact with each other. The ease of registering and providing info online makes the process seamless. I no longer hesitate to travel because I know Bella and Bentley will enjoy their experience. Thank you Dena and staff
Kathie Hurner
August 4, 2023
I already use Adorable Pets by Dena for grooming my Shih-tzu Blue, so when I needed a sitter for him and his Dachshund brother, Ziggy, it was a no brainer. My boys have never been to a daycare or boarded, so for two 11 year old seniors this was a big deal. They were taken such good care of, the staff sent me pics throughout the day, and they were happy and content when I picked them up. These two were worn out and slept deep after dinner when they got home, tired out from their fun day. Best of all, I could have a fun day with my family without worrying about my babies being crated up all day; knowing they were being taken care of by the kind staff who truly love their furry little campers. Thank you for providing a truly needed service in the Valrico/Brandon/FishHawk/Riverview area. You'll be seeing my boys again real soon.
Monteen Lindsey
July 27, 2023
Great care and special attention for my 3 Shih Tzu
Sherry Pine
July 19, 2023
Madison Deshong
July 16, 2023
My dog Django has visited a few times, and absolutely loves it! They do an amazing job of providing detailed updates, often in real time, with a phone call to say how well he's doing. When he was boarded there, regular pics and updates were very much appreciated. He comes home happy and exhausted, perfect!!
We had never left our Penelope (a shichon) with a boarding company before, but after over decade of quality grooms from Dena, we decided to give it a try. Penelope can be anxious around big dogs. We loved that this is a little-dog only place. She had the most wonderful time and came back to us happily exhausted from playing with all her friends. We loved the picture updates and are so excited to find a place perfect for our Penelope.
Heidi Lyn Campbell
July 15, 2023
This is an exceptional place! Absolutely wonderful care to my doggie! I was very surprised how beautiful and homey it is! Looks like a gorgeous hotel! The staff always goes out of their way to make my dog feel welcomed and for me to feel comfortable leaving her there. Very organized and super clean. Lots of love and care given….
Tammie Warren
July 14, 2023
Contact Us for Additional Information
Q Proin faucibus nec mauris a sodales, sed elementum mi tincidunt. Sed eget viverra egestas nisi in consequat. Fusce sodales augue a accumsan. Cras sollicitudin, ipsum eget blandit pulvinar. Integer…
Q Proin faucibus nec mauris a sodales, sed elementum mi tincidunt. Sed eget viverra egestas nisi in consequat. Fusce sodales augue a accumsan. Cras sollicitudin, ipsum eget blandit pulvinar. Integer…